Where Does The Money Go?
The Pennsylvania Lottery was established by law in 1971 to generate funding for programs that benefit older Pennsylvanians.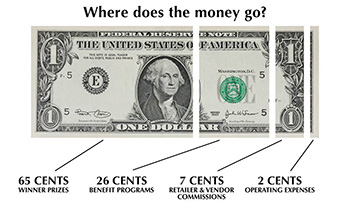 Since the very first ticket was sold in 1972, the Pennsylvania Lottery has contributed more than $30 billion to benefit programs that include property tax and rent rebates; free and reduced-fare transportation services; the low-cost prescription programs PACE and PACENET; care services; and local services provided by the 52 Area Agencies on Aging.
In the 2018-19 fiscal year, the Pennsylvania Lottery sold a record of more than $4.5 billion in games, from which it generated a record profit of more than $1.14 billion to benefit older Pennsylvanians. In addition, a record of more than $2.9 billion in prizes was paid to winners.
The Pennsylvania Lottery remains the only state lottery that designates all its proceeds to programs that benefit older residents. As an agency of state government, the Pennsylvania Lottery is a successful enterprise of which all Pennsylvanians can be proud.
Read more about PA iLottery Benefits