Mikki from Northumberland County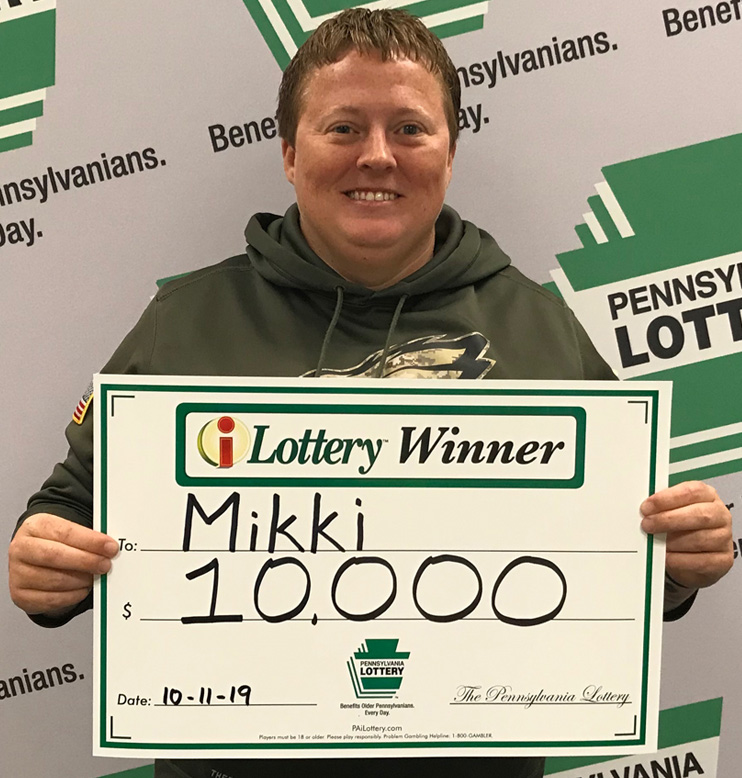 Mikki of Northumberland County, a former Army Combat Medic and volunteer firefighter, said she has overcome many things in her life, including brain surgery from a rare condition in 2015. She said that her three dogs and playing PA iLottery online takes her mind off the tough times.
Mikki was playing Cats, Hats and Bats™, an iLottery game, on Friday, October 11, 2019, when she won $10,000.
"All of a sudden, I hit $75 and I said, 'Wow this is great! I'll play a little bit more.' Two more tickets and I hit $250. Well, three tickets later I hit $10,000! When I first hit that, I didn't realize I hit $10,000! The three houses came up and I thought, oh I won $1,000 and quickly glanced over to the winning thing, but the win meter kept going," said Mikki. "As it kept going up, I'm going, oh my goodness, guys, guys, guys! I'm calling for my co-workers to come see this, because I was in disbelief that it was $10,000. I kept thinking it was $1,000."
Mikki said her co-workers ran over and saw she was, in fact, a big winner.
"They're all standing around looking at the screen saying, 'No that's 10,000!' It was quite intense, quite exciting," said Mikki. "I got laid off from a job back in April and started a new job, so things were a little tight for a while and in the midst of that I had to put a new roof on my house. So needless to say, my roof is paid for. That's a huge help."
Mikki added about her experience winning through PA iLottery: "It does happen. I won $1,000 back in May and I would win $100, $200 here and there. Keep playing, because there are winners out there and I never thought I would win $10,000 — that's for sure!"
Congratulations, Mikki!